Part of the challenge of having goals and deadlines is tracking them and being able to see your project's progress. To help me out I'm working on this scorecard that tracks the main goals and tactics of each 12 Week Year.
I've scoured the Internet for some templates to use and my scorecard is based on the spreadsheet created by Carrie Dils.
This is what the current scorecard looks like: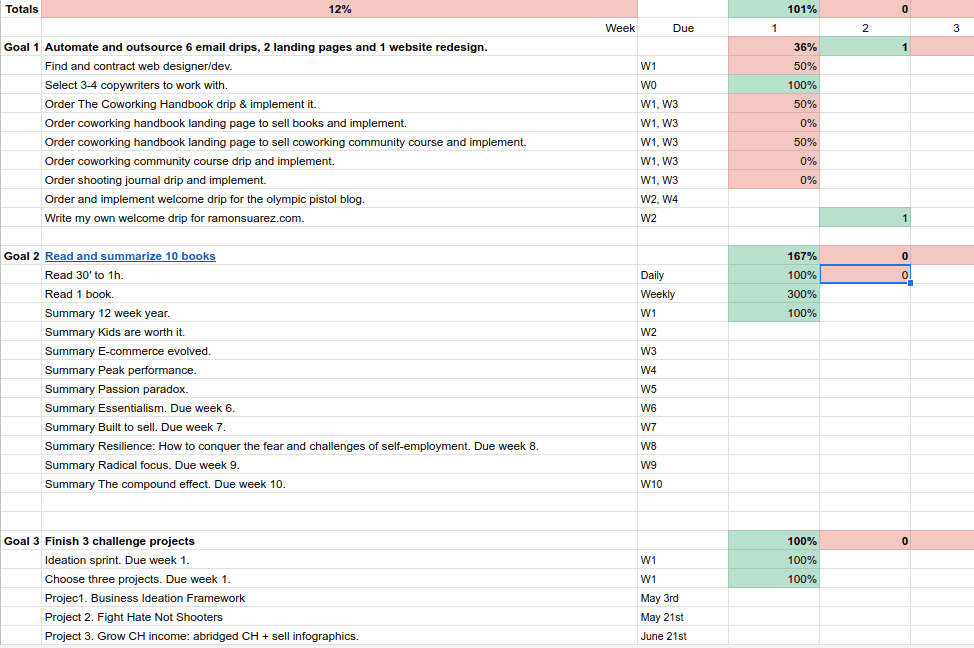 https://ramonsuarez.com/scorecard/Unfortunately, I can not embed it here right now due to the limitations of wordpress.com, but I'm already working on moving the blog to a self hosted install where you will be able to come to my blog to follow my progress… you peeping Tom.
I've now included my scorecard in this page.
This is not where I track all my tasks, this is where I keep track of the three main goals for the quarter and of the tactics to reach them. I use a task manager, a productivity journal, and my email to track tasks.
Another thing I'm doing is adding some data to my calendar (e.g. strategic blocks).
I would appreciate your help to make it easier to enter the data and not make mistakes. This is something that I want to release in the future to make it easy for others to implement their plans. If you use Airtable, do you think it can be imported there and use a form enter the data?
Thanks for your help!